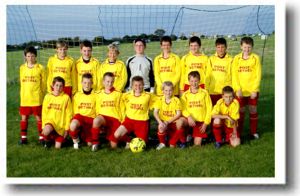 Bethel under 13's – League champions and the Gwyrfai League Cup winners
Congratulations to the under 13's team and their manager after completing the double – Gwyrfai League Champions and Gwyrfai Cup winners. Well done boys.
FINAL TABLE TOP THREE


| | | | | | | | |
| --- | --- | --- | --- | --- | --- | --- | --- |
| | Pld | W | D | L | F | A | Pts |
| Bethel | 18 | 17 | 1 | 0 | 127 | 15 | 52 |
| Penrhosgarnedd | 18 | 15 | 2 | 1 | 76 | 24 | 47 |
| Cae Glyn United | 18 | 12 | 3 | 3 | 63 | 21 | 39 |
---
END OF SEASON STATS BETHEL UNDER 13'S 2006/07
ALL COMPETITIONS
:
| | | | | | |
| --- | --- | --- | --- | --- | --- |
| Pld | W | D | L | F | A |
| 40 | 33 | 1 | 6 | 247 | 52 |

BIGGEST WIN: 22-0 V WAUNFAWR (N.WALES COAST CUP ROUND 1)

BIGGEST DEFEAT: 6-0 V PENRHYN BAY UNDER 14'S (FRIENDLY)

HONOURS
GLENEAGLES GWYRFAI LEAGUE & CHALLENGE CUP WINNERS
KON-X WALES HOLYHEAD TOURNAMENT WINNERS
NORTH WALES COAST CUP 3RD ROUND

SCORERS
JAMIE LEE MCDAID 93
GRUFFYDD JOHN 40
DANIEL BELL 33
ALEX JONES 22
TOMOS EMLYN 14
MATHEW EDWARDS 13
GERALLT JONES 12
CAI JONES 9
AARON GWYN 5
JAMIE STEVENS 3
SION HUGHES 1

PLAYER OF THE SEASON: ALEX JONES

PLAYERS PLAYER OF THE SEASON: DANIEL BELL
TOP SCORER: JAMIE MCDAID
---
Season's Results:
Gwyrfai League ~ 19/6/07
Waunfawr 0 v Bethel 7
Bethel clinched the Gwyrfai League title with this comprehensive victory,goals from Jamie McDaid 2,Jamie Stevens,Mathew Edwards,Alex Jones,Aaron Gwyn & Tomos Emlyn sealed the victory,Waunfawr's best chance came from the penalty spot,after a foul on the forward by goalkeeper Liam Williams,but the penalty was blazed over the bar,Liam made up for his error by almost scoring at the other end with a header, after coming forward for a corner.The trophy will be presented at the end of season presentations on Friday.
SCORERS:JAMIE MCDAID 2,JAMIE STEVENS,MATHEW EDWARDS,ALEX JONES,ARRON GWYN,TOMOS EMLYN.
---
Gwyrfai League
Bethel 3 v Waunfawr 0
SCORERS:MATHEW EDWARDS,JAMIE MCDAID & CAI JONES.
---
RESULTS OF THE MYNYDD ISAF F.C. TOURNAMENT 24/6/07
BETHEL 2 V EASTHAM RANGERS 0 ht:2-0
SCORER : Jamie McDaid 2 pens.
BETHEL 2 V RHYL GLANS 0 ht:0-0
SCORER: Jamie McDaid 2 ( 1 pen).
BETHEL 0 V PENRHYN BAY 1 ht:0-0
BETHEL 0 V LISCARD PANTHERS 1 ht:0-1
BETHEL 4 V HOLYHEAD HOTSPURS 0 ht:2-0
SCORERS: Gerallt Jones,Tomos Emlyn,Cai Jones,Jamie McDaid.
BETHEL JUST MISSING OUT ON A SEMI FINAL PLACE BY ONE POINT.
---
FRIENDLY 8/6/07
Penrhyn Bay Reds 2 v Bethel 0
One of Bethel's less inspiring performances of the season on a hot summers evening,the game was played over 3 x 20 minute periods due to the warm weather,with Bethel having many chances,but unable to crack the stubborn Bay defence or beat their fine goalkeeper,who made several impressive saves.Bethel's defence was caught out twice by quick breakaways,and it could have been three,but for a brilliant penalty save from Liam Williams.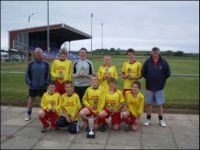 Congratulations to the Under 13's for winning the
KON-X WALES CUP HOLYHEAD 3/6/07
Round 1 - Bethel v Bodedern ht:1-0L ft:2-1W
Scorers: Gruffydd John & Jamie McDaid.
Round 2 - Bethel v Holyhead 'B' ht:1-1D ft:2-1W
Scorer:Daniel Bell 2.
Round 3 - Bethel v Amlwch ht:2-0W ft:2-0W
Scorer: Jamie McDaid 2.
Round 4 - Bethel v Llangefni ht:3-1W ft:6-1W
Scorers: Daniel Bell, Jamie McDaid, Alex Jones, Gruffydd John & 2 Own Goals.
Semi Final - Bethel v Gaerwen ht:1-0W ft:2-0W
Scorers:Alex Jones & Jamie McDaid.
Final - Bethel v Llangefni ht:3-0W ft:6-1W
Scorers: Jamie McDaid 3, Alex Jones2 & Daniel Bell.
---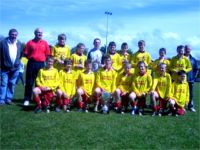 GWYRFAI LEAGUE CUP FINAL 20/5/07
Bethel 9 v Nantlle Vale 1
click here for more photos
Bethel clinched their first trophy of the season in glorious sunshine at the Oval in Caernarfon today, though it was a nervy first half as both sides tested each other out,with Vale looking the more dangerous side,Bethel took the lead with a typical cool finish from Jamie McDaid,shortly afterwards Vales defenders broke up a Bethel attack and swept the ball upfield to equalise,it was now a very even game,but shortly before the break Alex Jones finished a fine move to send Bethel in 2-1 up.
Stern words at half time seemed to do the trick, as the lads played the kind of football we know they are capable of,a foul in the penalty area on McDaid gave Bethel a spot kick, with Jamie Lee picking himself up to bury the ball in the corner of the net,2 further goals from McDaid,and goals from Alex Jones, Gruffydd John, Gerallt Jones and a first goal of the season for Sion Hughes, coming on as sub to knock the ball in from a corner. So well done boys as Bethel retain the cup, onwards now to the league title !

SCORERS: Jamie McDaid 4 [1 pen],Alex Jones 2,Gerallt Jones,Gruffydd John,Sion Hughes.
---
Gwyrfai League ~ Tuesday 15/05/07
Y Felinheli 0 Bethel 11
As the score would suggest,one way traffic in this delayed league match,Jamie McDaid scoring in the very first minute to begin the night,he went on to complete a first half hat trick,with a Mathew Edwards goal sandwiched in between. In the second half Bethel played some of their best football so far this season, with Jamie adding three more goals to his tally and two fine strikes from Gruffydd John and Tomos Emlyn with two, to send the lads home in good shape for Sunday's League Cup Final.

Scorers:Jamie McDaid 6,Gruffydd John 2,Tomos Emlyn 2,Mathew Edwards.
---
Friendly Match, 27/4/07
Penrhosgarnedd 'B' 2 - Bethel 4 (ht: 1-1)
Scorers: Gruffydd John 2, Matthew Edwards,Jamie McDaid.
---
23/4/07 - GWYRFAI LEAGUE CUP SEMI FINAL
Bethel 8 v Cae Glyn United 4 after extra time
This was certainly one of the most amazing and exciting games this season. The first half was played almost exclusively in the Cae Glyn half, with Bethel playing some of their most impressive football so far, and yet two rare breaks, one a questionable penalty, and the other a defensive error sent the cofis into the break 2-0 ahead. The second half saw Cae Glyn bristling with the confidence of their lead and playing a lot better, indeed they stunned Bethel with two early strikes, one a penalty for a push in the box,to take a 4-0 lead. Bethel now changed formation to a 3-3-4 and played the long ball to great effect, with Cae Glyn forced to defend deep, the cup holders pulled the score back to 4-3 late in the game, but it seemed as though the equaliser was not to be, then after a barrage of corners with fifteen seconds left to go, Daniel Bell smashed home the leveller to send players, supporters and coaches into joyous celebrations. The extra time period was a little less of a contest with Bethel reverting to their passing game and scoring four more goals.
It was a great match, but it takes two great sides to give us such entertainment, well done Cae Glyn for playing your part in making it a night to remember!
Scorers: Jamie McDaid 3,Daniel Bell 2,Gruffydd John,Alex Jones,Tomos Emlyn.
---
Friendly game
Bethel 11 v Penrhosgarnedd 2
Scoreres were:: Jamie McDaid 6, Gruffydd John 3,Daniel Bell a Tomos Emlyn.
---
Gwyrfai League ~ Saturday March 17th 2007
Bethel 5 – Cae Glyn 3
This crunch battle did not disappoint with Cae Glyn showing in the first half why they have topped the league since the beginning of the season, it was Bethel though who scored first, Aarron Gwyn cracking home a fine effort, but the visitors soon found an equaliser with some good interplay,Bethel's boys were finding it hard to crack a resolute Cae Glyn defence and it was they who took the lead,the game was now end to end with both teams missing good chances, but just before half time Jamie McDaid fired in the leveller to make it 2-2.
The second half again started at a cracking pace with Bethel having a little more of the play, they were rewarded with another McDaid goal to go into the lead,followed by a fine Gruffydd John strike to settle the Bethel nerves,the home side were now playing some good football,which resulted in Jamie McDaid completing his hat trick against his former club,some hesitant defending let in Cae Glyn for their third just before the end,but a battling second half performance sees Bethel take top spot for the first time this season.
Scorers– Jamie McDaid 3 Aaron Gwyn a Gruffydd John
---
Gwyrfai League ~ Saturday 11/03/07
Bethel 17 - Segontium Rovers 2
Yet another powerful performance by the boys on a very blustery day, Bethel going behind to a wind assisted corner very early on, but equalising straight from the restart, the lads again let Segontium take the initiative before racing into a half time lead of 8-2. The second half saw the welcome return of Gerallt Jones to action after several weeks out with a broken ankle, which was good news as Bethel lost right back Adam Hughes to a dislocated elbow during the week [get well soon Ads] The home side were dominant now and added nine more goals to their tally. Scorers were: Jamie McDaid 5,Daniel Bell 5, Alex Jones 2,Gruffydd John 2,Tomos Emlyn 2,Mathew Edwards.
---
Gwyrfai League ~ Saturday 17/2/07
Bethel 7 - Y Felinheli 0
Another dominant display by Bethel who attacked Felin from the first whistle, two goals by Matthew Edwards against his former club and a fine finish by Jamie McDaid put the boys on the road to three points in the first half. In the second half Bethel turned up the pressure once more with Matthew Edwards completing his hat trick, Alex Jones, Gruffydd John and Daniel Bell completing the scoring, although it was almost eight, as recent signing Sion Hughes struck a fine shot just over the bar after coming on as a substitute. Adam Hughes was made captain for the day against his Felin school mates.
---
Gwyrfai League ~ Saturday February 10th 2007
Bethel 7 – Bontnewydd 0
A bit of a lacklustre performance from the lads today, it took a 10th minute strike from captain Daniel Bell to get the ball rolling, with further goals by Aaron Gwyn and Jamie McDaid settling a half of many missed chances. The pattern of the second half was much like the first, although Bethel did string together some fine passing moves. Further goals by Jamie McDaid, Matthew Edwards, Tomos Emlyn and Gruffydd John giving Bethel the three points to keep up the pressure at the top of the table.
---
Sat 3 February 2007 - GWYRFAI LEAGUE CUP ROUND 2
Llanrug Lions 0 v Bethel 13
Scorers: Jamie McDaid 5,Alex Jones 3,Tomos Emlyn 2,Daniel Bell, Aaron Gwyn, Cai Jones.
---
Gwyrfai League ~ Saturday 27 January 2007
Bethel 9 v Penrhosgarnedd 'B' 1
A battle between two of the top three sides in the league this morning on a muddy, energy sapping pitch, Bethel going into the match with five players missing, but still managing to play their signature passing game and going into the break 3-0 up. The second half saw a little more of Penrhos as an attacking force, but Bethel's defence stood firm, apart from one mix up in the mud which saw the away side score, but Bethel's boys battled to the end to score six more.
Today's Scorers : Daniel Bell 3,Jamie McDaid 2,Gruffydd John 2,Matthew Edwards, + Own Goal.
---
Gwyrfai League ~ Saturday January 13 2007
Bethel 6 - Nantlle Vale 0
A game played in Llanllyfni due to Cae Coed Bolyn being unplayable,very muddy conditions did not help the lads put together their usual passing game today,but many chances were created in the first half, Gruffydd John,Jamie McDaid both coming close and Daniel Bell smacking one against the bar,at the midway stage Daniel broke the deadlock with a scrambled goal,followed shortly by the second by Jamie Lee.
In the second half Bethel got the ball down and started to pass it in the driving rain.two cool finishes by Jamie Lee and Gruffydd, and a 25 yard strike by Daniel put the game out of sight,then in the dying minutes Alex Jones had a fine run in to the box cut short by a badly timed tackle,Alex scoring with a fine penalty,put away Frank Lampard style! final score 6-0.
Scorers: McDaid 2, Bell 2, Gruffydd John, Alex Jones [penalty].
---
Friendly Match ~ Saturday December 16th
Bethel 3 – Penrhosgarnedd B 2
Bethel weakened by several absentees today and having to play the whole match with 10 men against 11,the lads battled brilliantly though and the one man difference was not really evident,they did go two goals behind,one a debateable penalty midway through the first half,a quick reply by Jamie McDaid sent Bethel to the interval 2-1 behind.After the break the game became very physical with several players picking up knocks,but Bethel had picked up the pace of the game and began to dominate with several chances being created,it was Jamie McDaid with two more clinical finishes to settle the nerves.A great finish to the year for the lads with surely more to come in 2007.A merry christmas to all!
FINAL SCORE: Bethel 3 v Penrhosgarnedd 'B' 2 SCORER: Jamie McDaid 3.
---
Gwyrfai League ~ Saturday December 9th 2007
Penrhosgarnedd 'A' 1 - Bethel 10
A fine sunny day for this game, though soggy conditions on the pitch, a change in goal for Bethel with the welcome return of Liam Williams after suffering two broken arms earlier in the season, and a fine return it was with one noteable full length save in the second half. The first half was very much one way traffic with Bethel taking an early lead through Jamie McDaid, the lads then added six more goals before half time. The second half saw the pitch cutting up badly which made the game a little more even, indeed Penrhos caught Bethel napping early on to make the score 7-1 and also had a goal ruled out for offside, however Bethel rallied to score three more goals and make the final score 10-1.
Bethel scorers : Jamie McDaid 5, Gruffydd John 2, Daniel Bell 2, Alex Jones.
---
Gwyrfai League ~ Saturday 25th November 2006
Bethel 16 - LLanrug Lions 0
Scorers: Gruffydd John 4, Alex Jones 3, Daniel Bell 2, Jamie McDaid 2, Tomos Emlyn 2, Gerallt jones, Matthew Edwards, Own Goal.
---
Gwyrfai League ~ Saturday 18 November 2006
Cae Glyn United 0 Bethel 3 ( Jamie McDaid, Gerallt Jones + og)
Bethel's visit to the league leaders turned out to be a great advert for Gwyrfai League football, the first half was dominated by Bethel with a strong wind in their favour, but their domination could not be turned into goals and the half ended scoreless. The second half was played at a fierce pace,with Cae Glyn much more in evidence, the breakthrough goal for Bethel came from Jamie McDaid,against his former club, with a goal from Gerallt Jones and an own goal settling the issue. Unfortunately, late in the game one of Bethel's players was dismissed for violent conduct. But all in all a deserved 3 points for the boys.
---
Saturday November 11th 06 ~ 3rd Round of the North Wales Coast Cup
Bethel 3 – Hearts Madrid Rhyl 5
A spirited, but unlucky performance by the boys against one of the tournament favourites, but well done for being the only Gwyrfai side left in the cup. As they say "now we can concentrate on the league". Hearts Madrid went into the lead with 2 goals but Bethel fought back to level the score before half time with goals by Gruffydd John and Cai Jones. In the second half Hearts Madrid went on to score 3 more goals with Bethel having several attempts at goal without success. Then 5 minutes before the end Gerallt Jones scored from a free kick. It was an entertaining game of football and the Bethel lads are to be congratulated on their performance right to the end.
---

Friendly ~ Saturday 4th November 2006
Bethel 0 - 6 Penrhyn Bay Under 14's
---
Saturday October 21 ~ NORTH WALES COAST CUP ROUND 2
Bethel 7 – Penrhyn Bay Reds 2
Scorers for Bethel today were: Jamie McDaid 3, Gruffydd John 2, Jamie Stevens and Gerallt Jones.
Bethel fully deserved their place in the 3rd round after dominating the game against a strong Penrhyn Bay side. Good luck in the 3rd round.
---
Gwyrfai League ~ Saturday October 7th ~
Penrhosgarnedd 5 v Bethel 5
A highly entertaining encounter between two talented sides, Bethel started strongly but missed a series of good chances, before Penrhos got a foothold in the game and took the lead. The match swung from end to end, with Bethel's debutant keeper Nathan Price making two fine saves and Penrhos hitting the post, Bethel then forced a corner for Daniel Bell to head home and equalise. Shortly before half time Penrhos scored on the break to give themselves a 2-1 lead.
At the start of the 2nd half Bethel played a much more successful passing game,utilising both wings well,indeed the leveller came from a fine run and cross from Gruffydd John on the right, which was converted by Jamie McDaid. Bethel then raced into a 5-2 lead, with two further goals from McDaid and one from Cai Jones. But this was not the end of Penrhos they came back with a strong finish to deservedly level the game. Well done to both sets of players,every match should be as exciting as this. Final score Penrhos 5 Bethel 5.
---
30 SEPT 2006 ~ NORTH WALES COAST CUP ROUND 1
Bethel 22 - Waunfawr 0
Scorers were : Jamie McDaid 9, Gerallt Jones 3, Daniel Bell 3, Gruffydd John 2, Cai Jones 2, Alex Jones, Mathew Edwards, Tomos Emlyn.
---
Gwyrfai League ~ Saturday September 23 2006
Bethel 12 - Penrhosgarnedd 'A' 3
Bethel were leading 4 -1 at half time. In the second half Penrhos could not stop the strong Bethel team scoring 8 more goals. Scorers: Jamie Lee McDaid 4, Gruffydd John 3, Alex Jones 2, Cai Jones, Gerallt Jones Mathew Edwards [pen].
---
Gwyrfai League ~ Saturday September 16 2006
Nantlle Vale 0 – Bethel 9
This was Bethel's first league game of the season. At half time the score was 2 – 0 to Bethel. In the second half Bethel went on to score 7 more goals despite the efforts of the Nantlle Vale players and many good saves by the goalie. The scorers for Bethel were Jamie Lee McDaid 2, Daniel Bell 2, Gruffydd John 2, Alex Jones, Gerallt Jones, Aaron Gwyn.

RECENT FRIENDLY RESULTS:
Thursday September 21
Bethel 4 – Bangor Academy 6
A highly entertaining match which was played in a strong wind, Bethel twice taking the lead against a strong Bangor side, highlight of the game was surely a second half wind assisted rocket of a goal from inside his own half by Daniel Bell. The game continued to swing end to end, until two defensive errors cost Bethel a share of the spoils. Scorers were Jamie McDaid 2, Gruffydd John, Daniel Bell.

2/9/06 Penrhyn Bay 4 - Bethel 6
Bethel scored 5 goals in the first half, then Penrhyn Bay scored 4 in the second half and Bethel 1. The scorers for Bethel were Gruffydd John 3, Jamie Stevens, Daniel Bell, Gerallt Jones.

Wednesday September 6th
Bethel 6 – Bodedern 4
Bodedern were leading in the first half by 2 goals to 1. In the second half Bethel scored 5 more goals and Bodedern 2. Scorers for Bethel were Jamie Mcdaid 2 , Gerallt Jones, Cai Jones, Gruffydd John, Daniel Bell.
| | |
| --- | --- |
| The under 13's team with the new kit for the 2006/07 season sponsored by Bethel Post Office. | |
---
| | |
| --- | --- |
| Cledwyn Pierce Jones from Bethel Post Office presenting the new kit to the captain of the under 13's team and their manager Paul Williams | |